Models
Bikes, e-bikes, and safety gear to rent at competitive rates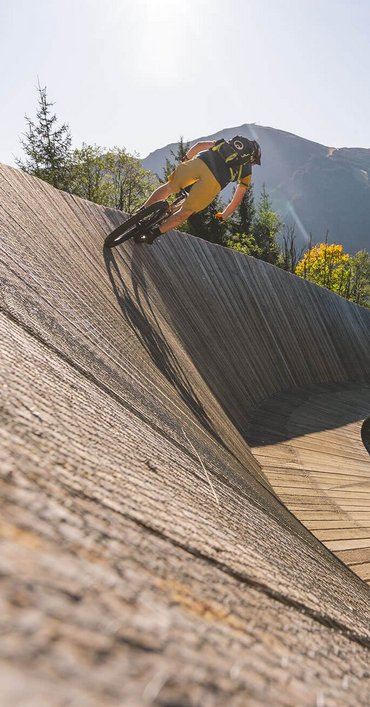 Bike rental in Saalbach-Hinterglemm.
Test the latest bikes and e-bikes with Rabbit Sports: your expert bike rental in Saalbach-Hinterglemm! Our bikes are cleaned and serviced daily. The only question that remains is: Do you want to conveniently explore the mountains with the support of an e-bike, or are you in for an adrenaline fuelled downhill ride? From hardtail to downhill bikes, we have something for everyone. Go for it!
Bikes at Rabbit Sports: fun, action, and adventure.
Enduro/ Freeride bikes
The freeride bike is your full-suspension choice for gnarly trails and steep descents, and will allow you to soar off jumps. They are also a reliable companion for uphill and all-mountain tours.
Models Adult Enduro:
Models Kids Enduro:
Scott Ransom 600
Scott Ransom 400
Commencal Supreme 1
Downhill bikes
Our downhill bikes take you downhill as fast as you want to go. Their increased weight guarantees stability and a maximum of acceleration. The heavy-duty tyres are adapted for riding on loose terrain and quality disc brakes effectively enhance your safety – as do our safety sets and full-face helmets!
Models Adult Downhill:
Models Kids Downhill:
Scott Ransom 600
Scott Ransom 400
Commencal Supreme 1
E-Bike
You want to experience adventure, ride through nature and not overexert yourself? Then an e-bike is the right choice for you.
Categories & models:
E-Bike Hardtail (Pleasure tours, forest trail etc. for children)

Scott Aspect Eride 910
Conway Cairon S 629

E-Bike Fully (full suspension, also suitable for trails)