Ski Services
Smooth and safe with the Rabbit Sports ski service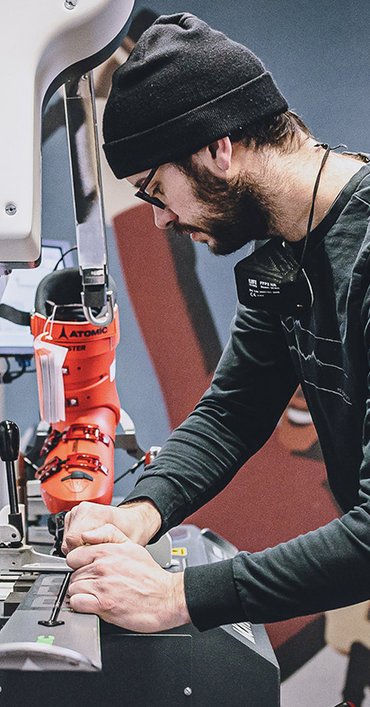 Where to find the best service in Hinterglemm.
With the Rabbit Sports ski service, you are guaranteed to get the most out of your skiing or snowboarding adventure in Hinterglemm. Since not all winter sports gear needs the same amount of service, we are prepared to tailor our service to the special requirements of your planks or board. We get your gear ready for the season, whip it in shape overnight for the next big adventure, or treat it to a final makeover at the end of the season. Check out our offers!
Your planks in professional hands: fully serviced.
Treat your skis or snowboard to full service before you hit the slopes this winter: We remove burrs and rust from the edges and prepare the surface. After six days out on the slopes, we fix damage, sharpen, and deburr edges to maintain the unique properties of your skis or snowboard and enhance their stability. At the end of the season, we prepare your equipment for storage to prevent it from losing stiffness and flex, and ensure they are raring to come back in full force for the next winter.
Rabbit Sports ski service: where the magic happens.
Tune, grind, wax, and more – by using the latest technology and up-to-date service tools by Montana, the Rabbit Sports team gets the most out of your skis and snowboard. Our full service also includes repairs and replacement parts. If you need a last-minute makeover for your skis or board, we recommend our quick and easy overnight service. Drop your equipment off at the end of your day on the slopes and pick it up the next morning ready for another adventure!
Ski Service - Tuning
| | |
| --- | --- |
| Express | € 29,- |
| Professional | € 39,- |
| Hot wax | € 12,- |
Snowboard Service - Tuning
| | |
| --- | --- |
| Express | € 32,- |
| Professional | € 45,- |
| Hot wax | € 12,- |